Those Who Look Out & Those Who Look Back / Addendum, 2020-21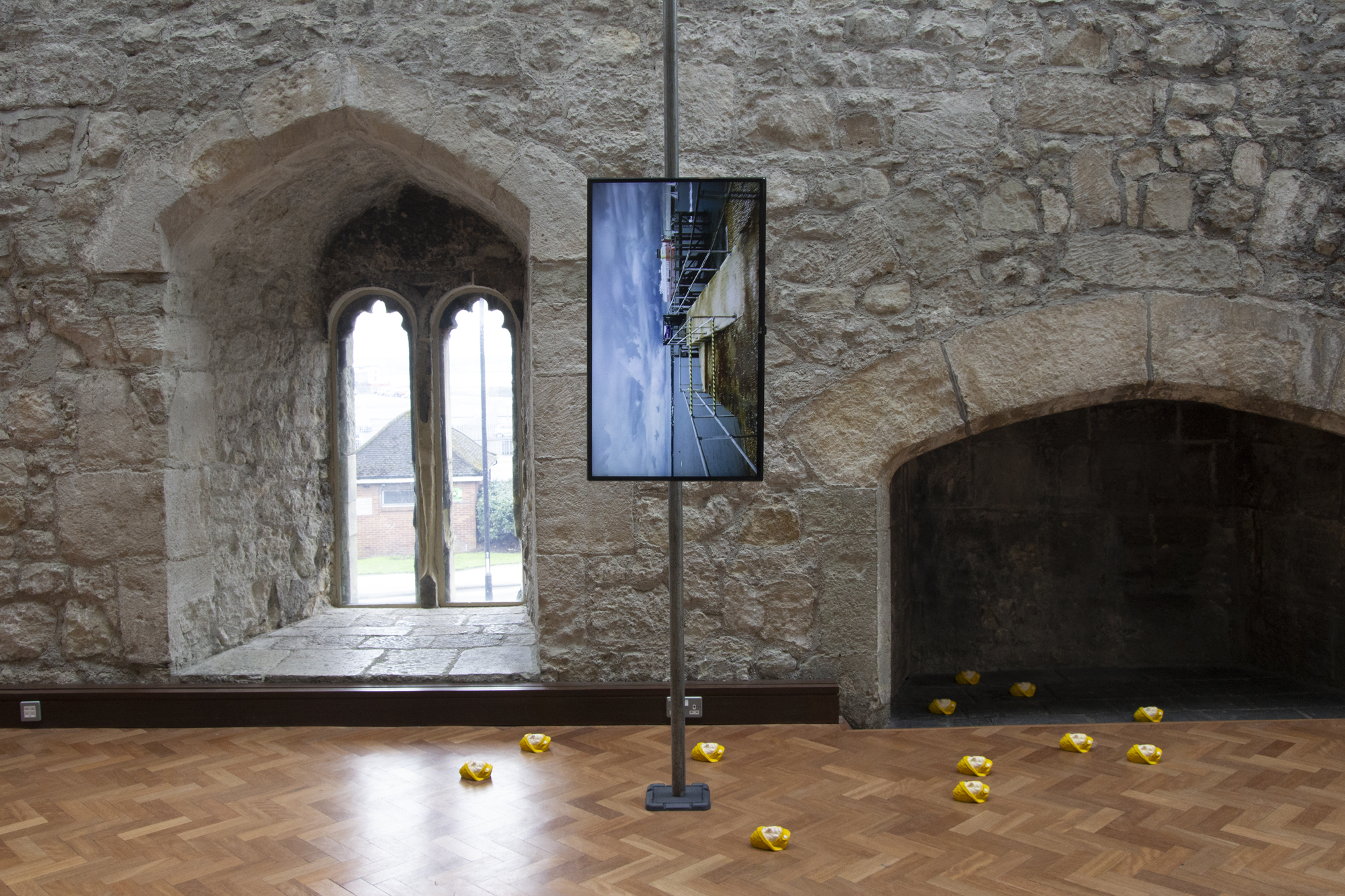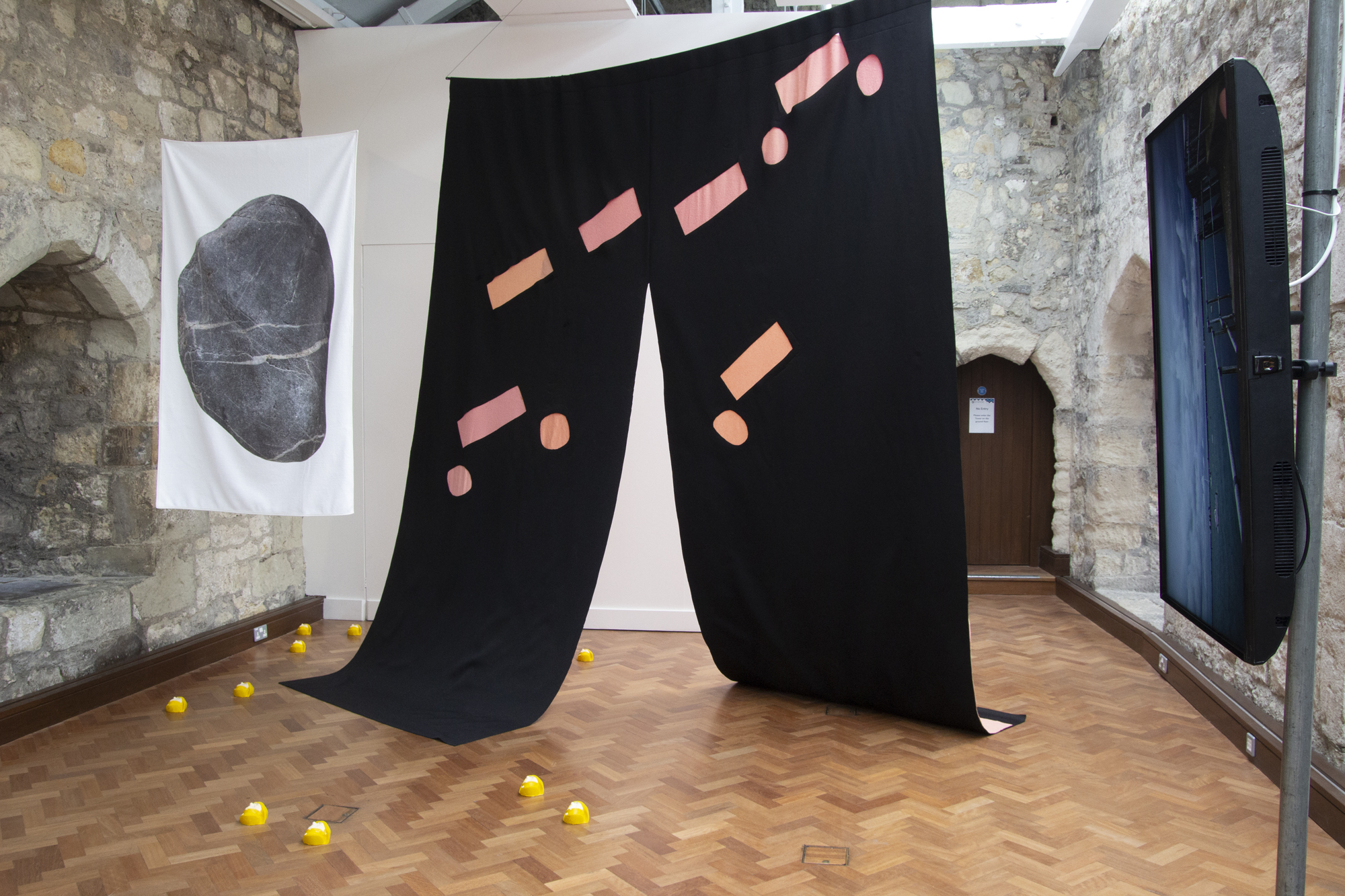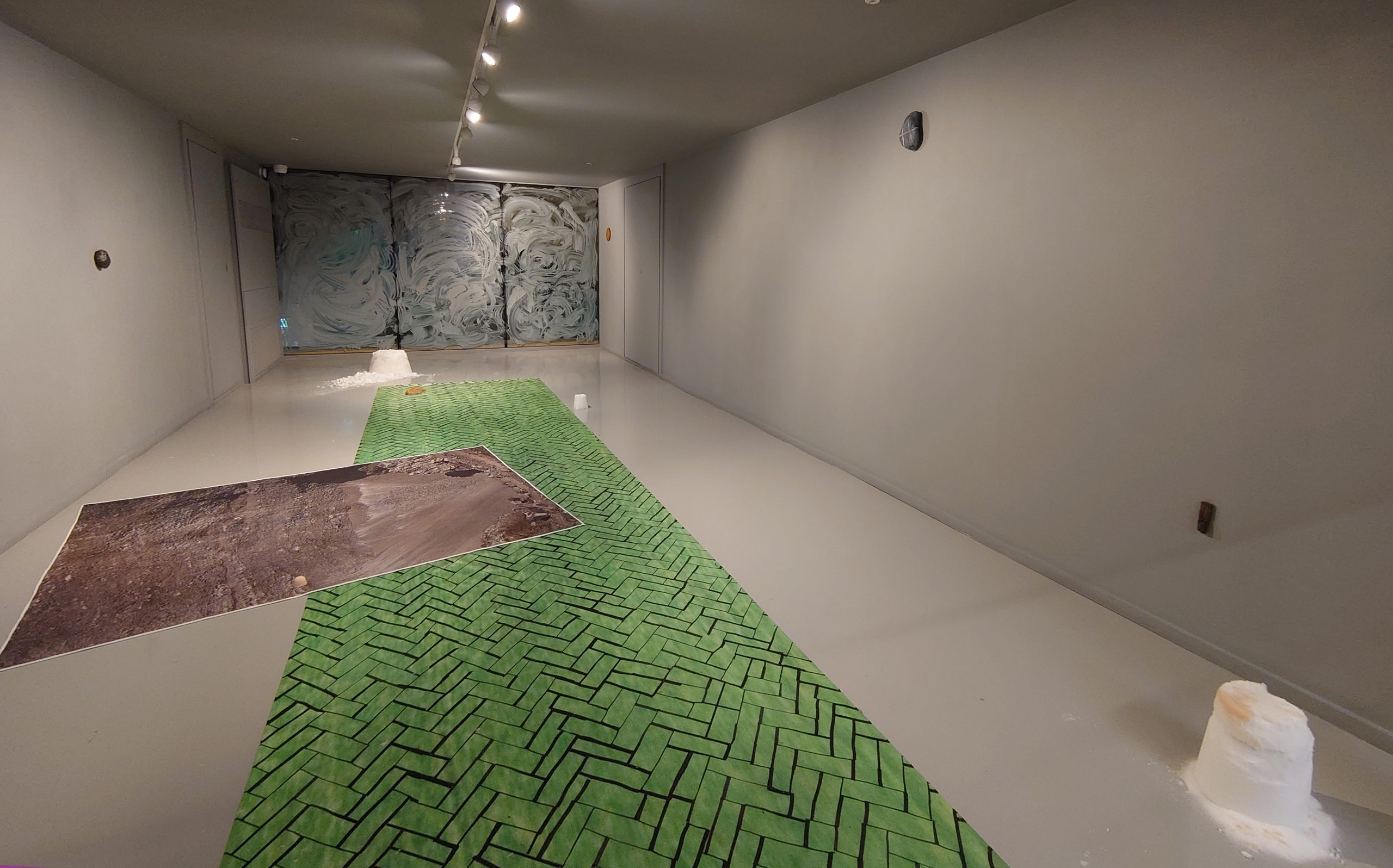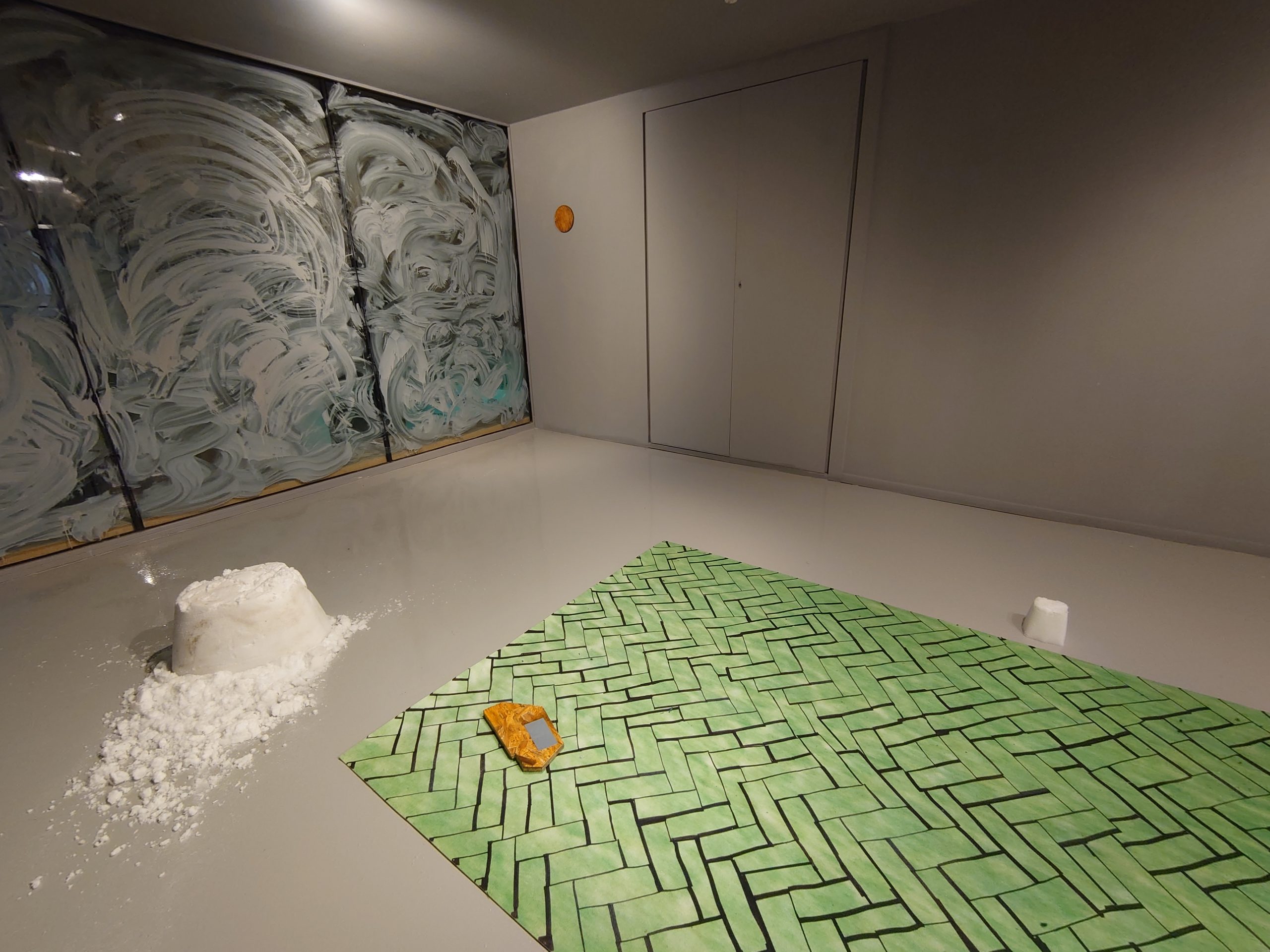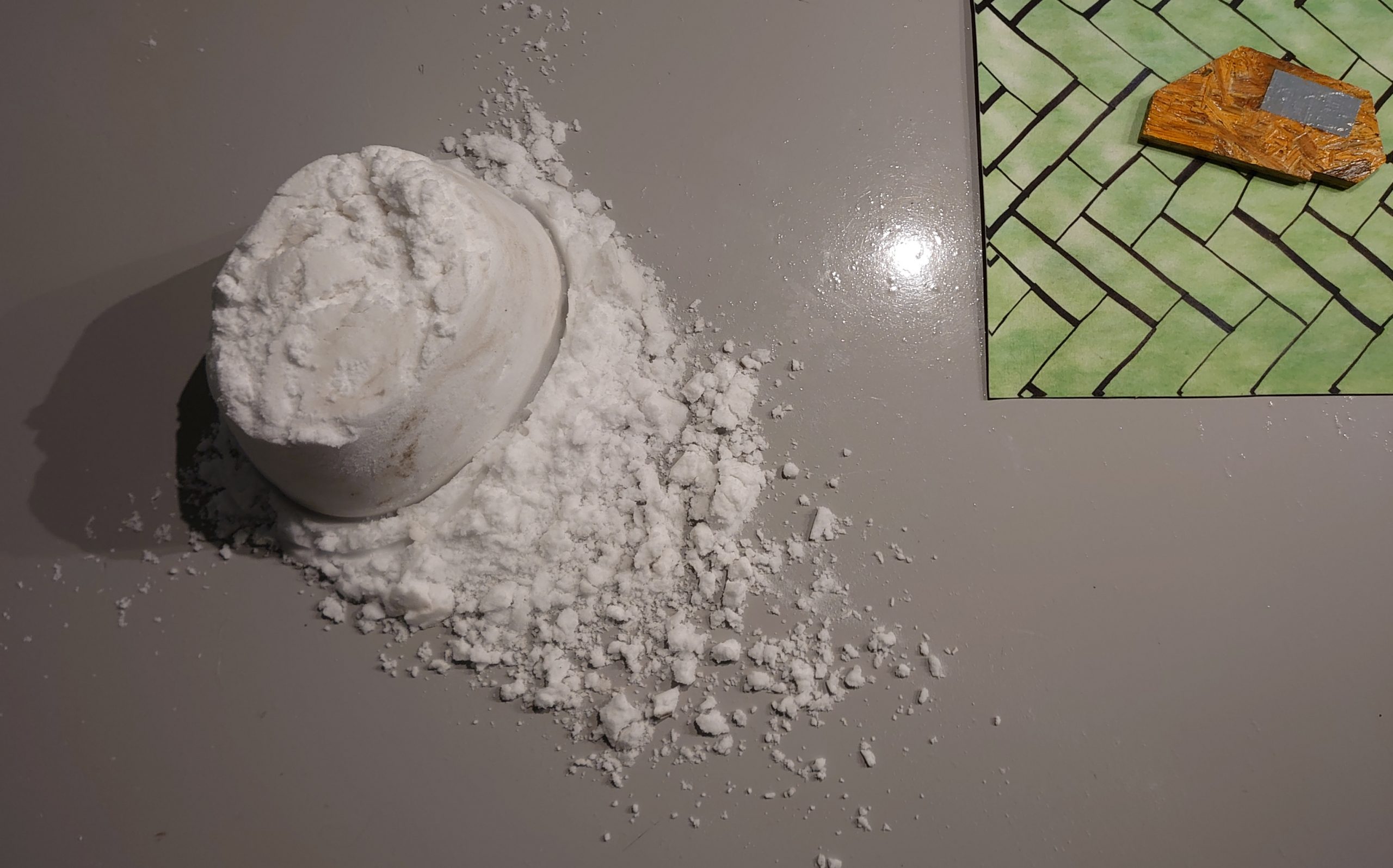 Laura Eldret & Paul Vivian
Those Who Look Out & Those Who Look Back
21 March 2020 – 15 August 2021
We humans consume the sea through objects and images – souvenirs, leisurewear, watercolours – as if to tame it. But it looks back, fiercely. Swelling and rolling, it carries precarious communities of humans in an embrace that is both nurturing and disciplining, a place of potential violence. Laura Eldret and Paul Vivian's two-person exhibition ruptures the  stone walled space of God's House Tower, with sculpture, fabric works and video that reflect forms of the sea. Here the sea is mothering and scolding, returning our glances with a warning that her powers are oceanic.
Paul Vivian's works play with and upend clichés of the sea as a place of vicarious consumption or passive spectacle. Arranged in the space are a set of beach towels with specially printed imagery: a swelling ocean, an oversized pebble and giant droplet. Nearby are a suite of 30 identical sea-farers cast in plaster by Vivian from an original ceramic collectible designed by the Bosson company in the mid-twentieth century. Their faces seem to pop out of the gallery floor, looking up with strange melancholy, as if gasping for air on the cusp of sinking beneath the waves. In these works, Vivian inverts the logic of oceanic kitsch, revealing once more the deadly force of the sea through a judicious altering of scale, position and materials. Vivian's sculptures are both material facts and distillations of social narratives, retold with pithy brevity.
Laura Eldret's works explore the sea from the perspective of its manifold inhabitants. A fabric piece hangs down, constructed from blankets and black neoprene. The work opens up questions around bodies, nurturing and survival. Eldret's video work Waters invokes the clichés of the sea-as-female – alluring, deadly or motherly. Featuring footage of bodies of water, boats zipping along, and a woman's legs beneath the surface, the video is edited in rapid intercuts between vertical and horizontal lines, creating an intense and haptic rhythm. These edits are based on the dots and dashes of Morse code, a motif that also appears on the fabric work. Eldret's wider concern with social forms of communication is also evident in a staging of a performance in the gallery by an all-male sea-shanty choir. Eldret's works are visceral reflections on the embodied and gendered communities, rites and rituals of the sea.
*ADDENDUM: 475 dys
9 July – 22 August 2021
In March 2020 the exhibition Those Who Look Out and Those Who Look Back was installed in GHT but did not open to the public till 475 dys later, to accompany it sunk beneath it in the Barker Mill GHT project space was an addendum exhibition of newer works by Laura Eldret and Paul Vivian. Eldret's saltworks, audio installation and carpet, and Vivian's fabricated objects are brought together in an enigmatic and oneiric lament.
Listen to Paul and Laura chat about Addendum
– The performance work Distant Calls by Laura Eldret, in collaboration with a sea shanty choir, was performed on Saturday 10 July to a small socially distanced audience and live-streamed across GHT social media channels. A performance of sea shanties within the city walls beside the sea exploring the ritualistic social form of song and its transmutative and sculptural qualities. With special thanks to Pauline McWilliams and Salty Sea Dogs John Bailes, Keith Durrant, Tim Inkson, David Jullian, Paul Knight and David Smith.
Paul Vivian's practice considers ideas around ritual through found objects and images. Born in Middlesex 1970 He studied MA Fine Art at Norwich School of Art and Design and BA Fine Art (painting) at Chelsea College of Art and Design. His work has been presented in UK and international solo and group exhibitions winning the Wells Art Contemporary in 2015. He has published on the subject of collage and trauma and director of Black Box Project Space at UCA Farnham. He is based in Hampshire, London and Surrey.
Laura Eldret is based in the New Forest and studied Fine Art at Wimbledon School of Art. Her work explores social forms by looking at the ways that people come together to perform and perpetuate cultural identities. She works across art forms including installation, textiles and video work. She has exhibited widely in solo and group exhibitions including at Karst and The Box, Plymouth (2019); Drawing Room, London (2019); Firstsite, Colchester (2018); Turf Projects, Croydon (2017-18); Tannery Projects, London (2016); Centre for Contemporary Art, Derry, NI (2016); Fig-2 50/50, ICA, London (2015).