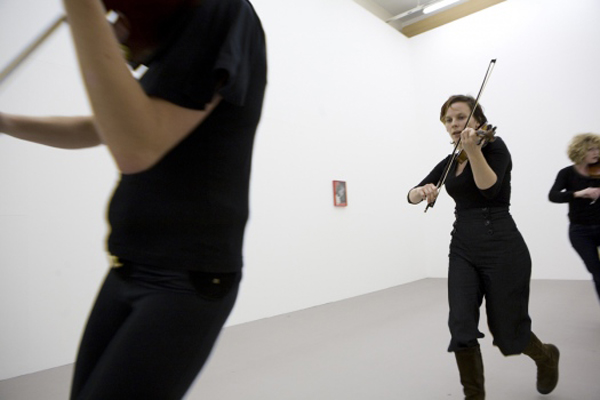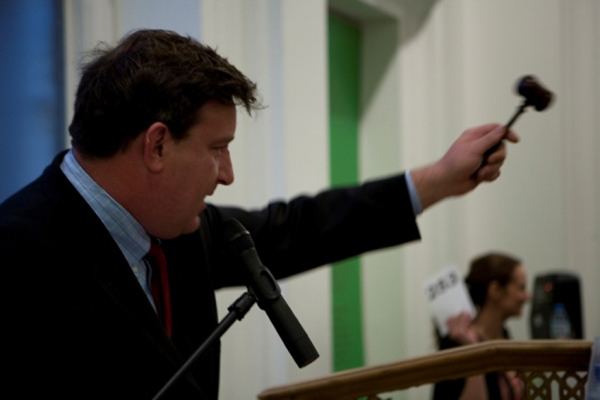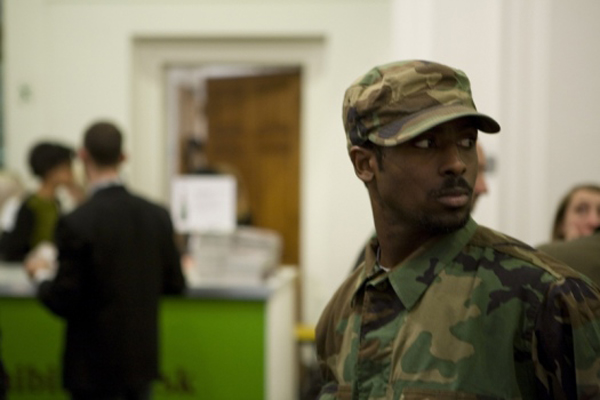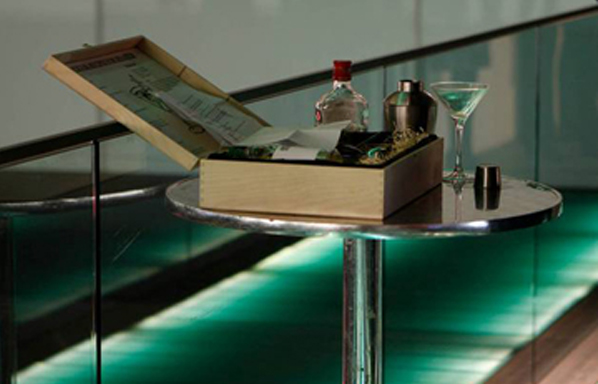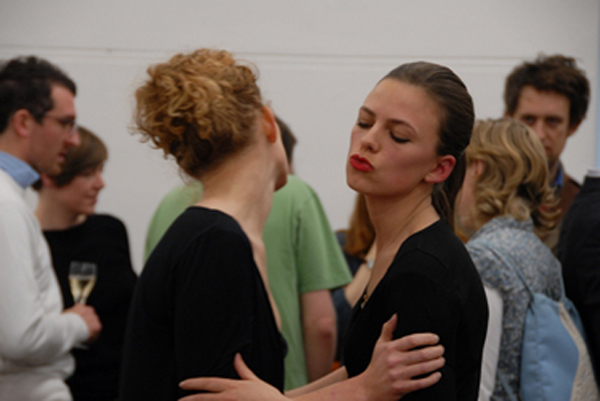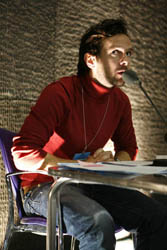 In 2008 Laura Eldret, with art historian Teresa Calonje, founded and collaborated on CollectingLiveArt – a project which aimed to raise debate and explore the challenges of ensuring a legacy of ephemeral works within public and private art collections. CollectingLiveArt explored issues and opportunities of collecting, preserving and re-producing live artworks.
PROGRAMMES:
– CollectingLiveArt Symposium
Saturday 26 January 2008
CollectingLiveArt Symposium brought together artists, art professionals, organisations and collectors to explore ways to sustain and ensure a legacy of Live Art practice. The panel included: Paul Hobson, Contemporary Art Society; Lois Keidan, Live Art Development Agency; Sally O'Reilly, art critic; Dominic Palfreyman, The Felix Trust for Art; Niru Ratnam, Store Gallery; La Ribot, artist; Mark Waugh, 13Strand; Bedwyr Williams, artist.
CollectingLiveArt also curated a programme of performances by artists including: Eloise Fornieles & Kate Hawkins presented in collaboration with Bischoff/Weiss Gallery, Rory Macbeth, Jordan McKenzie, collaboration works from Manuel Vason, an archive from collector Helen Thorpe and a series of videos from the Artsadmin artists.
On the evening before, CollectingLiveArt presented a performance by French artist Marie Cool and Italian artist Fabio Balducci at Valeria Napoloeone's private home.
The Symposium and Performance programme were supported by Arts Council England, the Felix Trust for Arts, French Institute, private collectors Barbara Ooms and Valeria Napoleone. We also received in kind support from Veuve Clicquot, the AFoundation, Live Art Development Agency, Contemporary Art Society and Drawing Room.
– ARTfuturesLIVE at Bloomberg Space
Tuesday 11 March 2008
An exclusive evening at ARTfutures 2008 exploring the presence of performance in contemporary artists' practice. In a bid to represent a slice of contemporary artists' practice in the UK, the Contemporary Art Society, supported by Jerwood Visual Arts kindly invited CollectingLiveArt to curate ARTfuturesLIVE, an evening of performances that run alongside the ARTfutures exhibition for one night only. The evening included presentations and conversations from artist Tim Knowles, curator/writer Sacha Craddock and Jeni Walwin co-curator of ARTfutures; followed by performances by artists Yara El-Sherbini, Juneau Projects, Bedwyr Williams and duo Vlatka Horvat & Tim Etchells. Curated by Laura Eldret.
– Without You It's Nothing at Deptford X
11 October 2008
You are invited to observe, participate and affect the process as we strive to allocate, divide and give a cultural value to the fund of £500. Artists have been invited to pitch for a hand full of the coins with propositions to realise an act independent of Deptford X. These moments are to be played out in the following days, creating their own subsequent events.
The panel aims to support proposals, discuss merits, explore parameters and award some cash. The members of the panel are in flux; they can change at any point of the day. Along with our invited artists and curators, we invite people visiting the exhibition to propose an idea, artwork or act in return for remuneration. Without You It's Nothing does not attempt to steal the moment,but to capture the performance of the pitch and to ask if this instance is enough?
Contributing artists; Phil Ashcroft, Alex Baker, David Brazier, Rachel Lois Clapham, Ilsa Colsell, David Raymond Conroy, Ben Cove, Richard Dedomenici,James Ferris, The Hut Project, Dunstan James,Tania Koswycz, Matt & Ross, Jennifer Medwid,Marieanne Mulvey, Harriet Murray, Lee Regan, Nick Symes, Laurence Taylor, Neil Taylor, Ben Washington and Samuel Williams. Curated by Laura Eldret and PaulMart.
– Performance at Zoo Art Fair
17 – 20th October 2008
CollectingLiveArt in collaboration with Zoo Art Fair curated a series of performances and live works programmed throughout the five days of the Fair. The works played out in a range of ways from intervening throughout with the structure of the Fair itself, to events situated in time. Sponsored by Arts Council England and Embassy of Sweden. The commissions were:
Karin Kihlberg & Reuben Henry, Auction #1
variable duration, 2008
Re-inventing the auction as the work and sales mechanism, the audience is invited to bid for ownership of the auction itself whilst also casting themselves within it.
Doug Fishbone, Slide-Show Performance
duration approx 17 mins, 2008
Fishbone performs one of his celebrated comic slide-show lectures, taking his audience on a journey through his mildly warped imagination, with a special nostalgic look at the Cold War, and his childhood growing up in New York City.
Giorgio Sadotti, Violin Siren
performance, variable duration, 2005-ongoing
Violinists are asked to write a score emulating the sound of the local emergency vehicle siren. The violinists play their scores live whilst moving around the Fair as quickly as possible.
Nina Beier, All Together Now
durational intervention, 2008
The interns working at the Fair were asked to whistle a socialist workers' song when performing routine tasks during the installation, public hours and de-installation of the Fair.
Reza Aramesh, Action No. 60
durational intervention, 2008
In response to the social and historic meaning of the building, and to the Fair and its artistic and financial meaning, Reza Aramesh infiltrated the space with a military symbol of power and protection.
– Public Collections and Performance
18 October 2008
Laura Eldret in conversation with Contemporary Art Society (CAS) Director Paul Hobson about how public collections acquisistion programmes can support and collect performance-based practices. Part of Brown Mountain Festival.
– Contested Ground
18 January 2009
CollectingLiveArt in conversation with Jenine Mcgaughran and Elizabeth Neilson, Head of Collection at 176, Zabludowicz Collection. A collaboration between Goldsmiths MFA Curating and Royal College of Art. Article on the event here http://jeninemcgaughran.blogspot.co.uk/2010/06/contested-ground.html
– Conversations at LISTE 09, Basel
16-21 June 2009
Performance Project, LISTE 09 invited CollectingLiveArt to lead a series of conversations exploring the issues around collecting, preserving and re-activating ephemeral art works in the contemporary context. Conversations included artists included in the performance programme and key thinkers and curators on the debate including Fabian Chiquet ( artist), Aaron Sandnes (artist), Caron Geary (artist), Joanna Zielinska (artist), Alexandra Bachzetsis (artist), Wilfredo Prieto (artist), Laura Bartlett (gallerist), Peter Bläuer (director LISTE), Silke Bitzer ( Performance Project curator), David Sherry (artist), Daniel McClean (producer) and Seth Siegelaub (exhibition organiser, publisher and former art dealer) and Hanna Hildebrand (artist).
PRESS:
CollectingLiveArt Symposium Review by Rachel Lois Clapham for a-n Magazine, published April 2008 http://open-dialogues.blogspot.co.uk/2008/03/od-test-post.html
CollectingLiveArt, interview with Laura Eldret for OwnArt e-bulletin, published 22 April 2008 www.artscouncil.org.uk
Selling Initiatives by independent curator Jeni Walwin featuring CollectingLiveArt, published by A-N Artist Information Company 2008 http://www.a-n.co.uk/p/486127
Collecting Live Art – Axis, published October 2009
How to Collect Performance Art by Jean Wainwright Art Newspaper, published June 2008. http://www.theartnewspaper.com/fairs/Art-Basel/2009/2.pdf
RELATED EVENTS AND ARTICLES:
– Pricing Performance for Artquest
8 November 2010 Performance art is perhaps one of the most difficult media to sell, price or collect: Laura Eldret's talk explores how performance can be collected and priced. http://www.artquest.org.uk/articles/view/projects-in-2010
– SHOW Panel Discussion
4 April 2011
Laura Eldret in a panel discussion with Bedwyr Williams (Artist), Catherine Wood (Tate Curator of Performance/Contemporary Art) and Sally O'Reilly (Writer, Critic and Editor) discussing the wider context of performance including documentation, objects and the collection of live works. Listen here https://vimeo.com/23904900
– Questioning Ephemerality: Collecting Performance Art
by Louisa Elderton, Jerwood Visual Arts, published 3 May 2011 http://blog.jerwoodvisualarts.org/?p=426
– Conversations on Contemporary Art: Collecting New Media, Moving Image & Performance Art at London Art Fair
18 January 2013
Performance, new media and advances in new technologies have never been so influential on contemporary artists, shaping the ideas, forms and contexts of contemporary visual culture. What does all of this mean for those interested in collecting contemporary art? Contemporary Art Society director, Paul Hobson talks with Elizabeth Neilson, director, Zabludowicz Collection, and artists and curators Paul Purgas and Laura Eldret on interdisiplinarity in relation to collecting and the challenges and opportunities of collecting new media, moving image and performance art. http://www.contemporaryartsociety.org/event/talk-conversations-on-contemporary-art-collecting-new-media-moving-image-and-performance-art-with-paul-hobson-elizabeth-neilson-paul-purgas-and-laura-eldret/
Images above: Giorgio Sadotti, Violin Siren, performance, variable duration, 2005-ongoing; Karin Kihlberg and Reuben Henry, Auction 1, variable duration, 2008; Reza Aramesh, Action No.60, durational intervention, 2008; Bedwyr Williams, Cocktail Recipes for Disaster, 2008. Courtesy Contemporary Art Society; Eloise Fornieles and Kate Hawkins, Please to Meet You, 2006, at CollectingLiveArt Symposium. Below image: Doug Fishbone, Slide-Show Performance, duration approx 17 mins, 2008